Welcome back.
Earlier this week, I was trying to figure out what I should label my third blog post. The first word that came to my mind was "Despacito." This song, to my surprise, has caught on like wildfire among Espoo locals Jukka and Piiuska, who hosted me in their homes this past week.

I looked up what the English translation was for "Despacito", and I found it means "Slowly". That word describes well my integration into Finnish culture this past week.
The
first
part of my slow integration involved
food
. I have started incorporating Karelian pies, a Finnish staple item, into my breakfasts.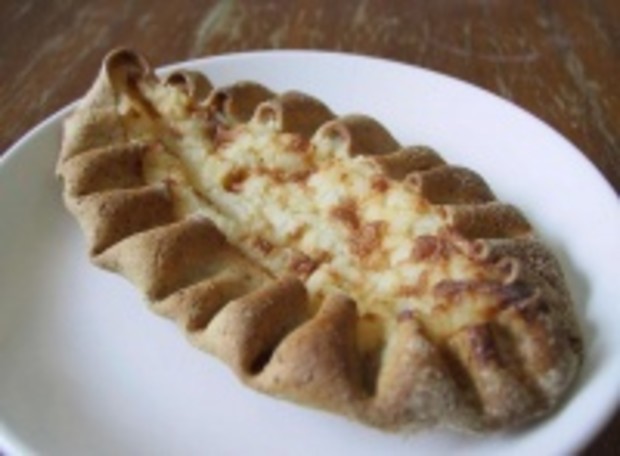 What a Karelian Pie looks like (credits: food.com)
They are these interesting looking rice-based pies that are normally eaten with egg butter. Personally, I find them to be pretty tasty even when eaten plain. Another nice food discovery I made, thanks to Piiuska, was Halloumi cheese. I tasted the cheese for the first time, and I must say it is quite salty, yet delicious. Most other items at the grocery stores are still foreign to me, partially because their descriptions are written solely in Finnish and Swedish, which is the secondary language of Finland. As I start buying groceries regularly, I think I should start to understand what exactly it is that I am buying.
Second phase of my integration involved getting used to the transportation systems. I purchased a weekly transportation pass, which allowed me unlimited usage of the transportation network (rail, bus, metro, tram) in the greater Helsinki area.
It proved to be quite handy, as I made trips to:
open a bank account (a struggle involving multiple trips which I was able to overcome)
enjoy Helsinki nightlife
meet the Finland Fulbright Center Program Manager, Karoliina
visit the island of Suomenlinna ("Fortress of Finland") and
attend my first Toastmasters meeting in Finland.
The number of transportation options can be overwhelming, but the system here allows you to bypass the need for taxis and ubers, which can get quite expensive in Finland. A transportation pass seems to be well worth the investment.
View from inside the walls of Suomenlinna
Waters on the perimeter of the Sea Fortress
Cannons outside to defend attacks from the seas
Inside of a Fortress Cave
Third
part of my integration was centered around my
interactions
with the local population. Piiuska took me to my first bar in Helsinki. It was a terrace bar called Löyly.
My experience another evening at Villi Wäinö (Wild Wayne) was not as great, however. I learned that I could not keep up with Piiuska's friends when it came to beverage consumption, and I felt quite sick afterwards. Moral of this story for me: Don't assume because you are in Finland, that you acquire the tolerance of the Finns 😄 .
Another more enjoyable experience of the week included a nice dinner at Jukka´s, where I was able to interact with his teenage daughter Inka and a couple of his guests. I found everyone to be both interesting and knowledgeable, and was happy to have a nice conversation about the NFL with one of the guests. Too bad he was a New England Patriots fan 😀.
My last activity of the week was attending a Toastmasters meeting in Finland, something I was planning on doing long before my arrival in the country.
Picture from my visit to Helsinki Toastmaster Club, the first club formed in Finland
The Toastmasters experience was an important one for me, as I was able to get a feel for what Toastmasters is like in a different country. I liked the fact that there were lots of nationalities represented, including on the executive board. This is pretty much representative of all the Toastmasters meetings I have been to back in the states.
One of the goals of my exchange is to start an international Toastmasters club in Lappeenranta, where I will be studying. Now that I met more Toastmasters enthusiasts in Helsinki, I feel as if I have a bit more support for when I attempt to create the club in Lappeenranta.
This upcoming Monday I leave for Turku, a former capital city of Finland, to begin a summer course on Finnish language and culture. I will slowly start to incorporate some written Finnish into my blog posts.
Will provide my next update from Turku. See you!